Kaigyoku Okada, 1890–1966 (The 97th Chief Abbot of Daigoji Monastery)
岡田戒玉像
1 of 12
bronze
Height: 47 cm
Ca. 1966
Shinjo created numerous busts during his lifetime and devoted the utmost care to each work, always mindfully considering his friendship and connection to his subject. Kaigyoku Okada, who eventually became the 97th Chief Abbot of the Daigoji monastery, had acted as an advisor to Shinjo during his training period there, leading to a long and productive friendship. Shinjo and his wife Tomoji would later pledge their support for the rebuilding of the Jundei Kannon Hall at Daigoji, a project the Chief Abbot had long-cherished. Unfortunately, Okada did not live to see the completion of either this sculpture or the Jundei Kannon Hall restoration, the dedication of which was held some two years after his death.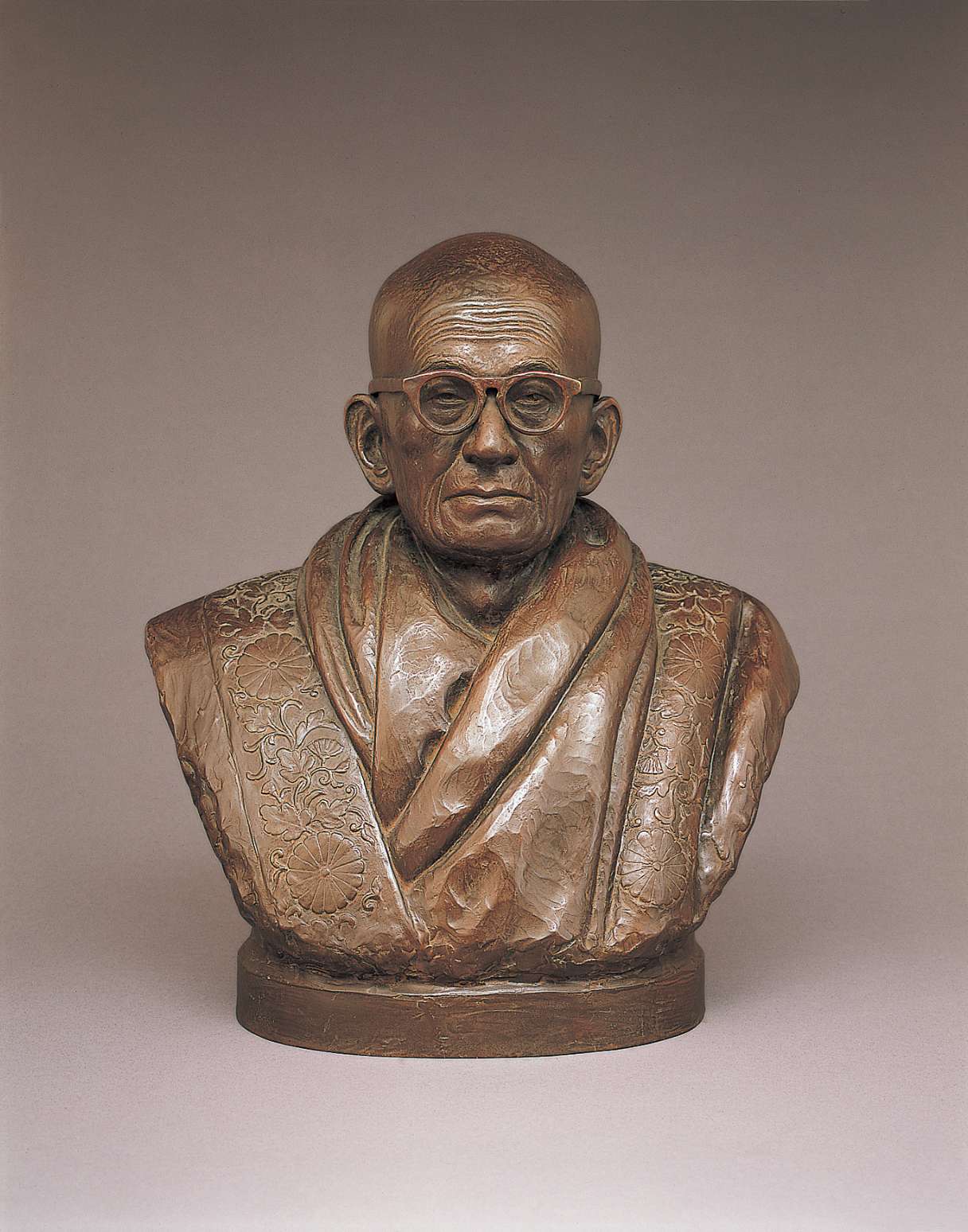 Rosen Takashina, 1876–1968 (Superintendent of Soto Zen Buddhism)
高階瓏仙像
2 of 12
bronze
Height: 47.6 cm
Ca. 1967
When Shinjo visited Thailand as a representative to the conference of the World Fellowship of Buddhists in 1966, the head of the Japanese delegation was Rosen Takashina, chief priest of the Soto Zen sect. The two became close friends and continued their association in Japan. This portrait of Takashina conveys the youthful vitality and indomitable spirit of the elderly monk, who visited Shinjo's studio regularly during the sculpting of the work. He died peacefully at the age of 92, soon after it was completed.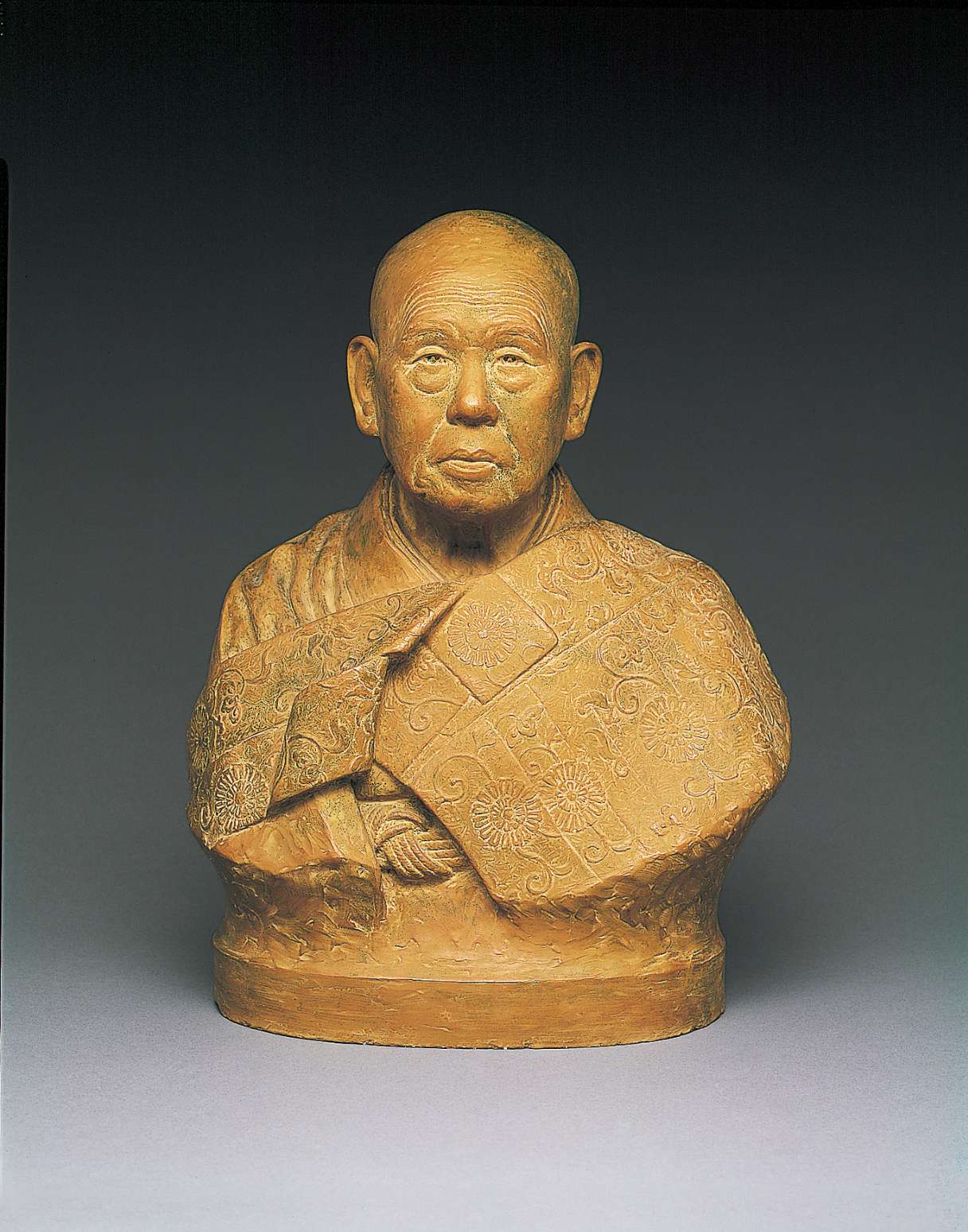 Masatoshi Matsushita, 1901–1986 (President of Rikkyo University)
松下正寿像
3 of 12
bronze
Height: 48.3
Ca. 1967
Masatoshi Matsushita was a devout Christian and a former president of Rikkyo University. A friend and spiritual colleague, Matsushita spoke highly of Shinjo both as a religious leader and a human being. This is the second of two busts of Matsushita that Shinjo worked on.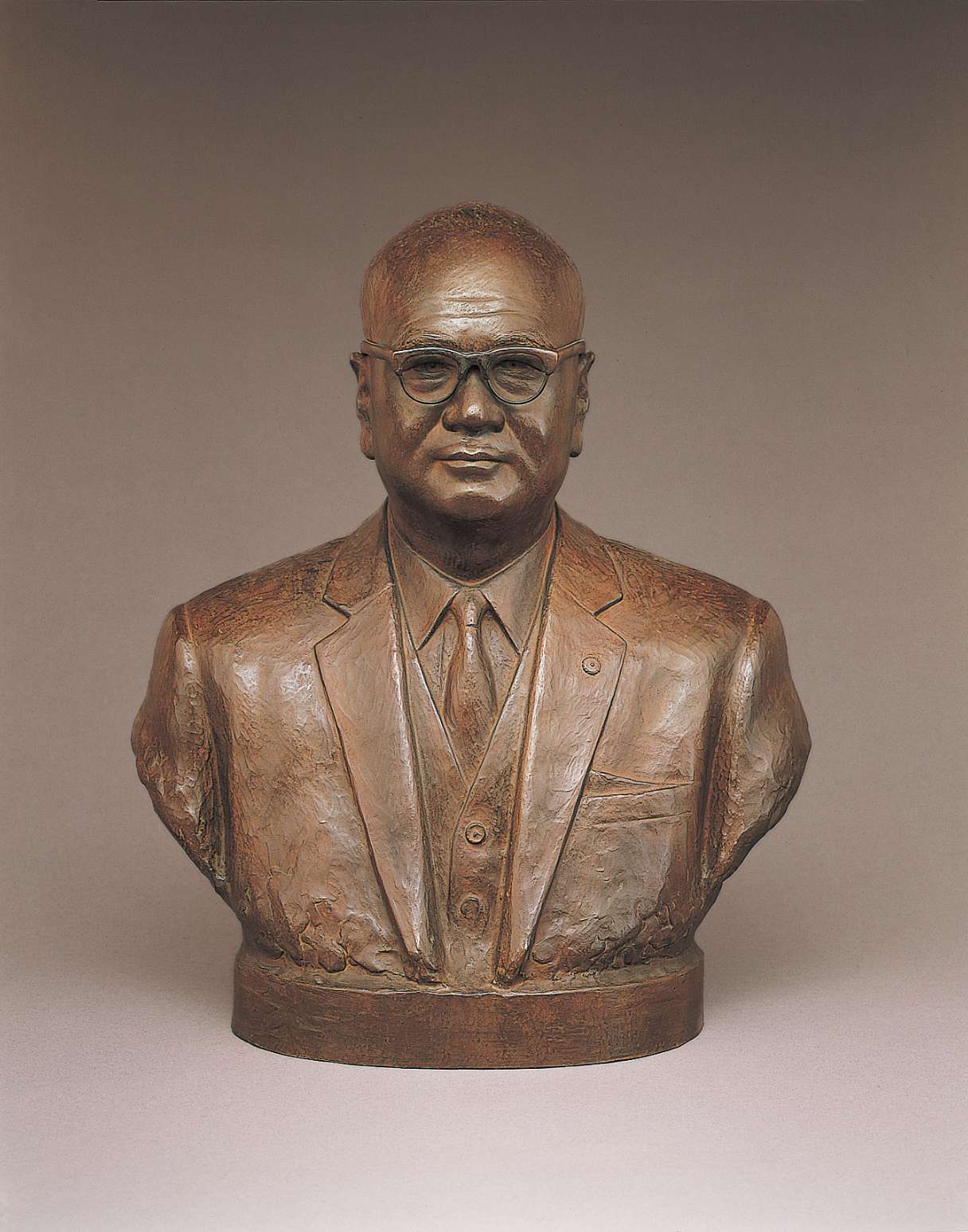 Shinjo Takenaka, Professor Emeritus of Taisho University (1913-1992)
4 of 12
Resin
Height: 39.2 cm
Ca. 1968
Shinjo Takenaka was a religious scholar and academic who also held positions as head priest of a Jodo temple and chair of the Jodo Shu Research Institute. He had been a professor at Taisho University when he met Shinjo Ito who was said to be greatly impressed by his lectures on Buddhism and the ego.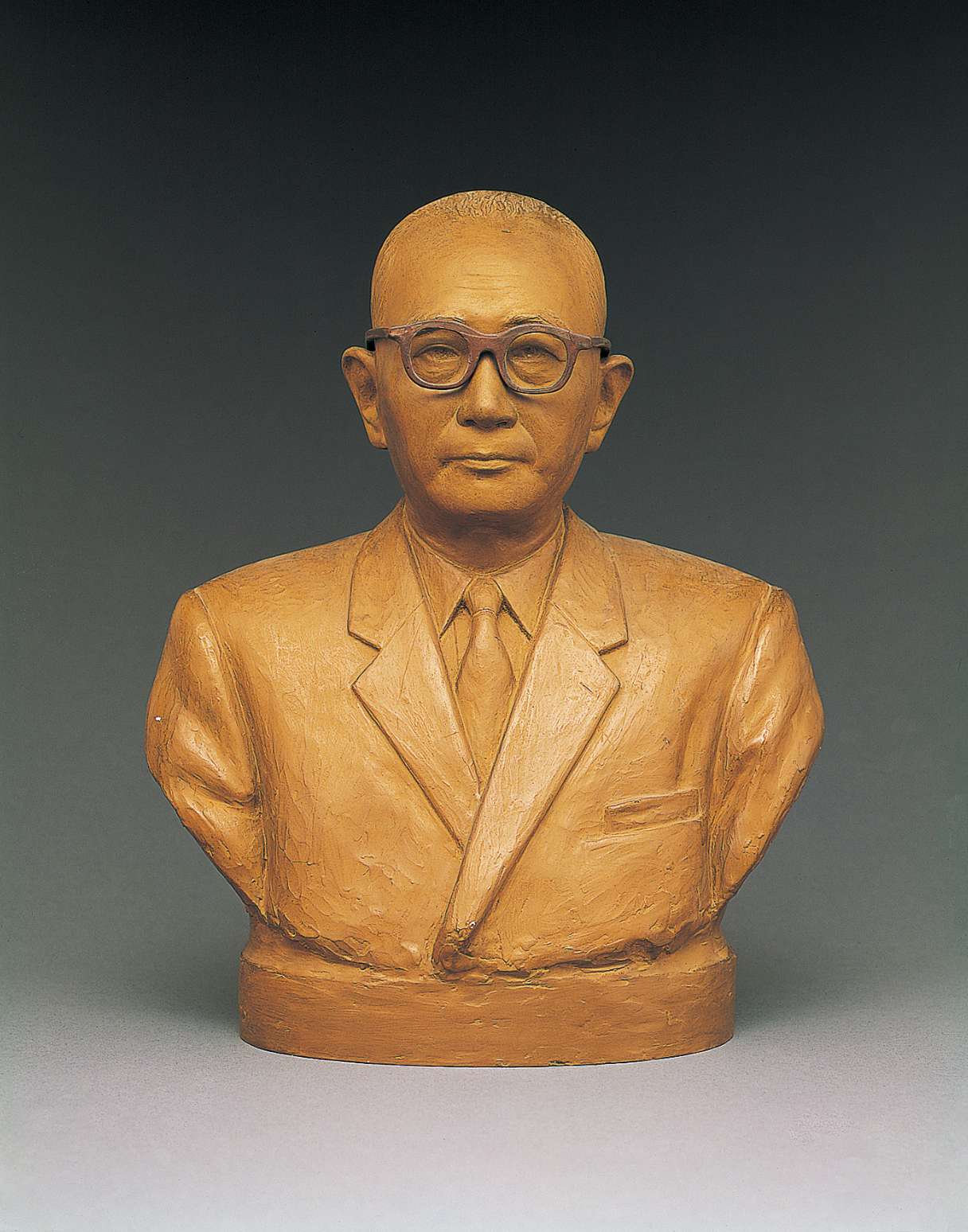 Toko Kon, 1898–1977 (Abbot of Chusonji Temple / Novelist)
今東光像
5 of 12
bronze
Height: 47.8 cm
Ca. 1974
Known in Japan primarily for his novel Oginsama, Toko Kon took the Buddhist vows and became a Tendai priest at the age of 33, later assuming the position of head priest at Chusonji, the Tohoku area head temple of the Tendai School. Like Shinjo, Kon was keenly interested in the Great Nirvana Sutra, and the two men enjoyed a deepening friendship based on their mutual appreciation of the text. Kon also held Shinjo in high regard for founding his own Buddhist order.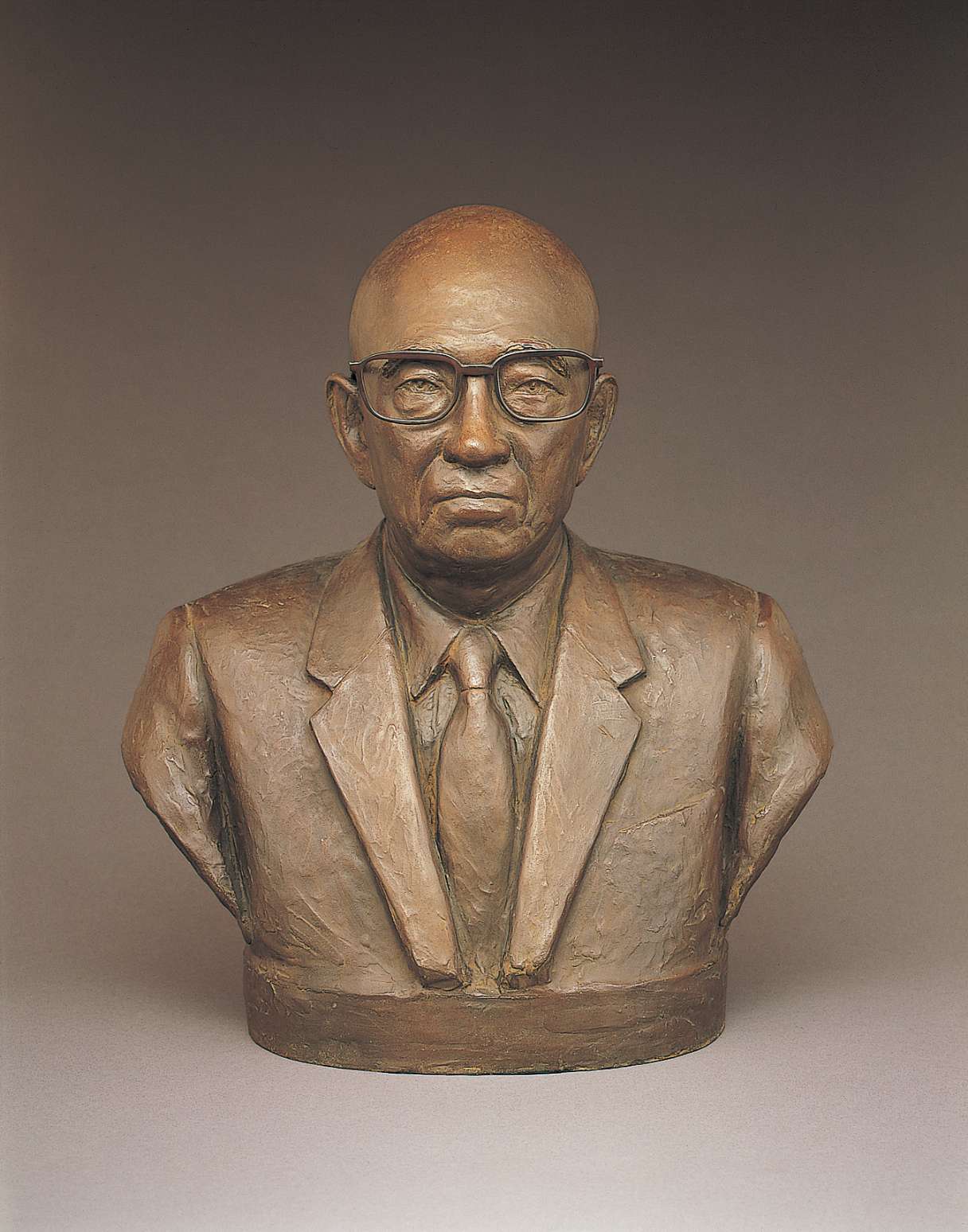 Fumio Masutani, 1902–1987 (Professor Emeritus of Taisho University)
増谷文雄像
6 of 12
bronze
Height: 48.7 cm
Ca. 1974
Fumio Masutani was a Buddhist studies scholar and professor at Taisho University and Tokyo University of Foreign Studies, who later assumed the presidency of Tsuru University. In 1973, Masutani and his wife participated in the marriage ceremony of Shinjo's third daughter, Masako, the current head of Shinnyo‑en. Shinjo completed this sculpture the following year, no doubt prompted by his gratitude to Masutani.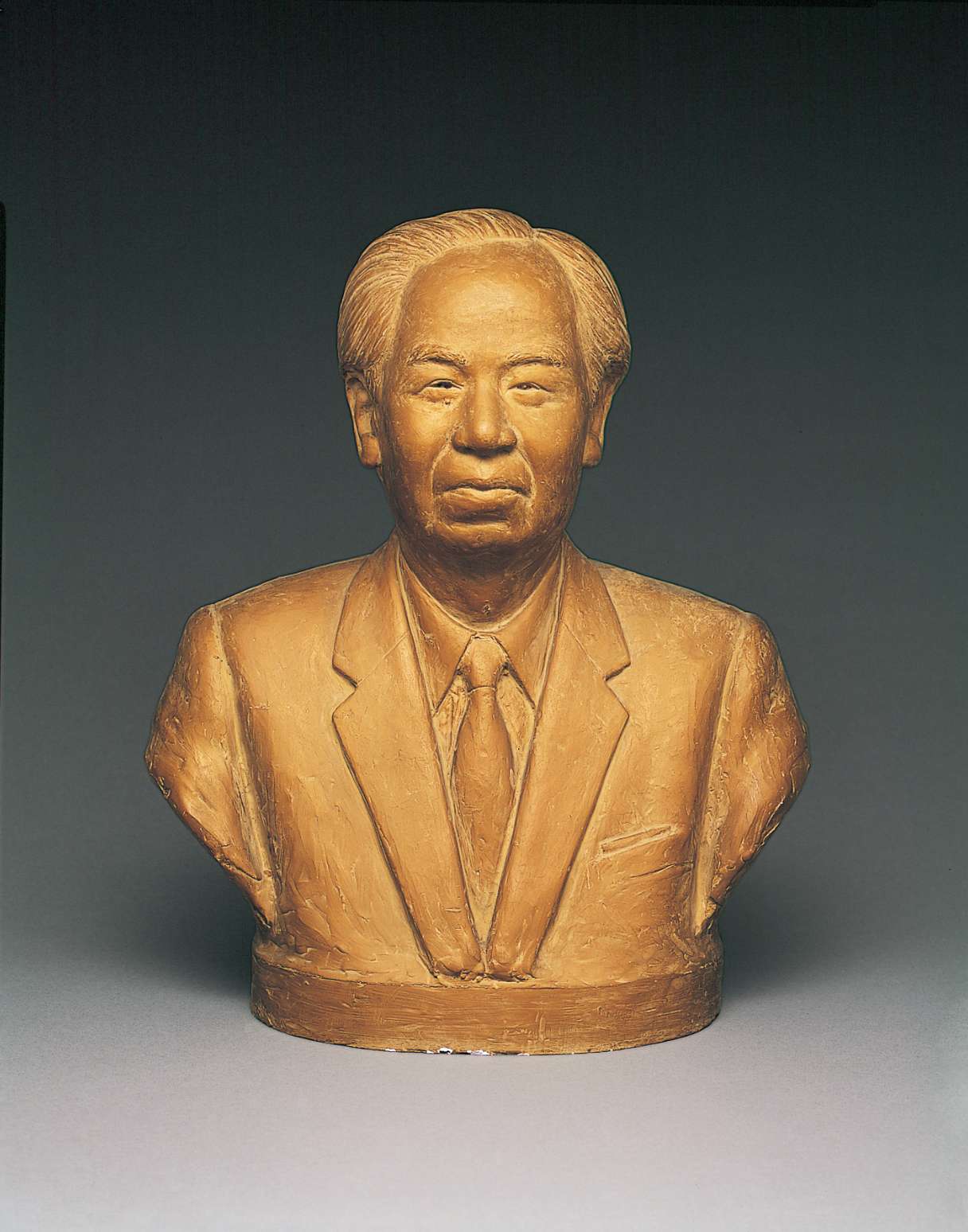 Bunjiro Ito, 1867–1921 (Shinjo's Father)
伊藤文二郎像
7 of 12
bronze
Height: 24.7 cm
Ca. 1961
Shinjo created this bust of his father, Bunjiro, from memory. Bunjiro was a devout Soto Zen follower whom Shinjo regularly accompanied to Zen meditation sessions at Seikoji, the Ito family temple, where Bunjiro acted as general director of the lay followers' group. The elder Ito also initiated his son into a form of divination that had been passed down through the family for generations. Shinjo was just 15 when he saw his father for the last time. After graduating from secondary school, he took a job on the far-off Japanese island of Hokkaido and it was here that he learned of his father's untimely death. The long distance prevented him from returning home for the funeral.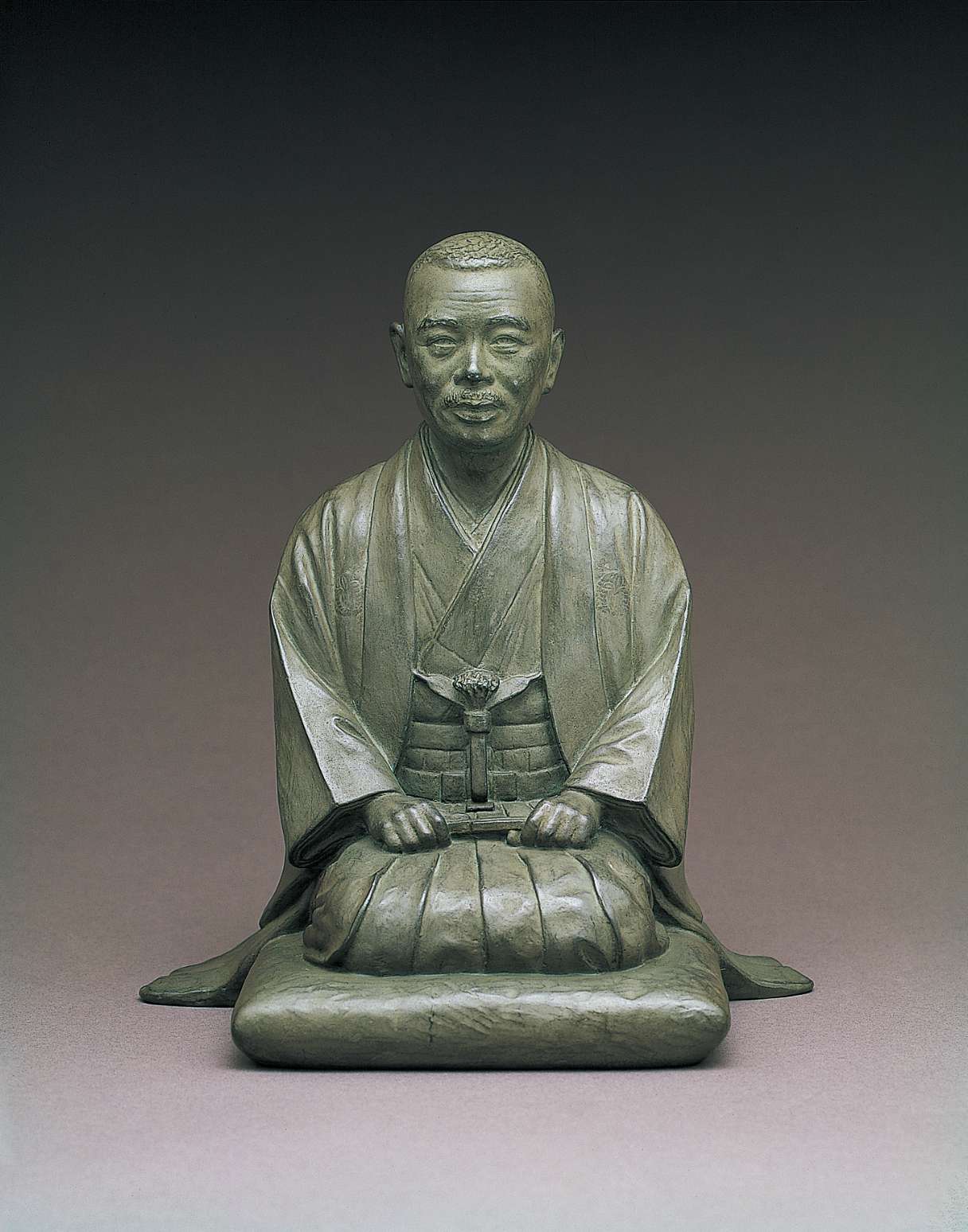 Yoshie Ito, 1878–1965 (Shinjo's Mother)
伊藤よしえ像
8 of 12
bronze
Height: 23.5 cm
Ca. 1961
Shinjo's mother, Yoshie, was a devout follower of Tenrikyo, an offshoot of Japan's indigenous Shinto faith. Hence Shinjo was educated in two different religious traditions—Zen from his father, and the Tenrikyo tenets from Yoshie. Both parents sensed that Shinjo was meant for a spiritual calling, and each hoped that he would follow their own religious path. However, neither pressured Shinjo to choose—raising him only to be kind, reverent and honest. This piece shows Yoshie in her final years—a stout-hearted woman who raised six children after losing her husband in her 40s.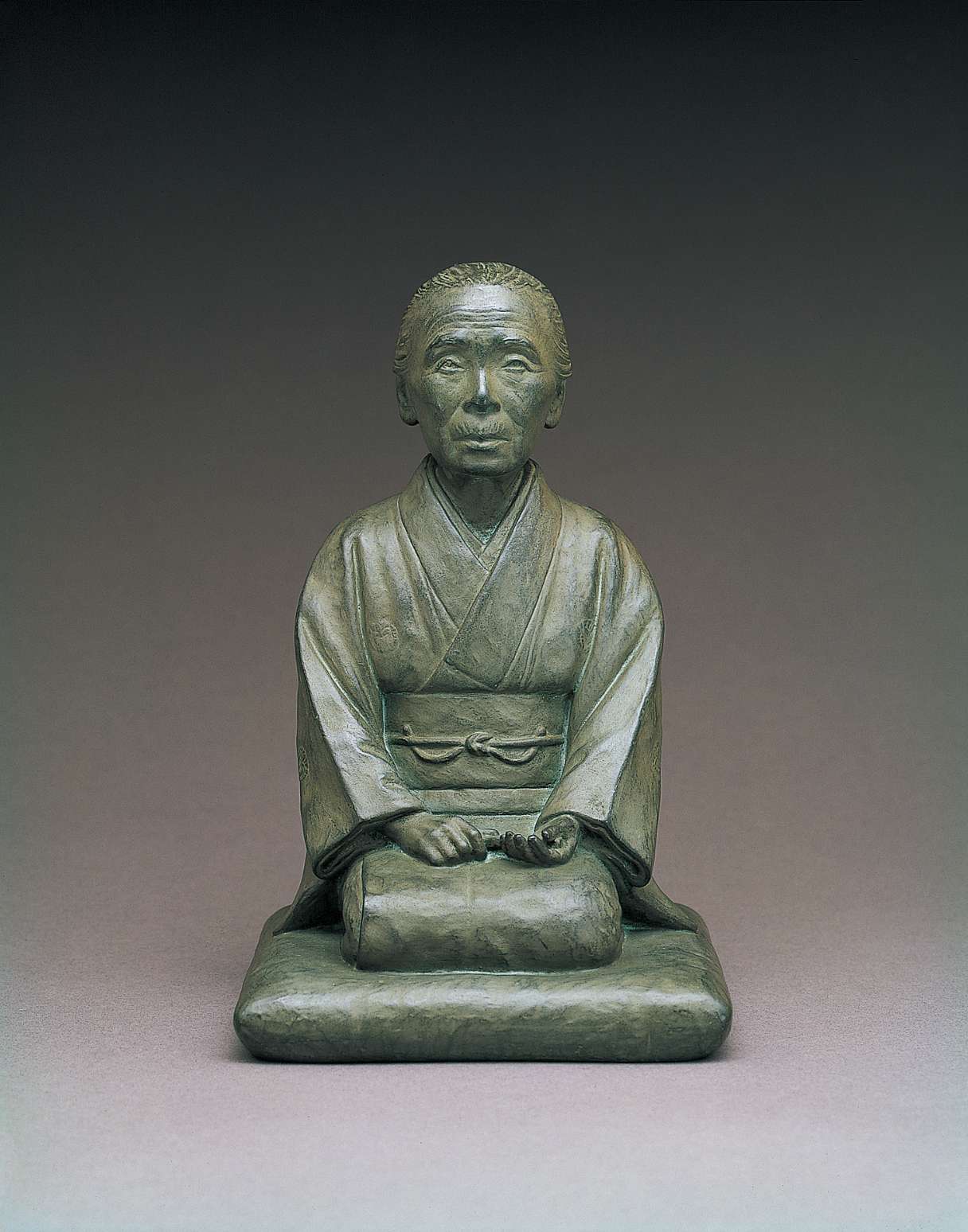 Shinjo Ito, 1906–1989 (Self Portrait)
伊藤真乗像
9 of 12
Resin
Height: 60.8 cm
Ca. 1962
Shinjo learned much about portrait sculpture from around 1953, when the renowned sculptor Keiho Kimura created busts of Shinjo's two sons, who had died very young. Kimura's completed works were not what Shinjo had envisioned, and with the master sculptor's consent he made his own adjustments. This self portrait was made the year after Shinjo created a bust of his wife, Tomoji, and shows the artist-monk with his typically approachable countenance, sitting back in what might have been his favorite armchair.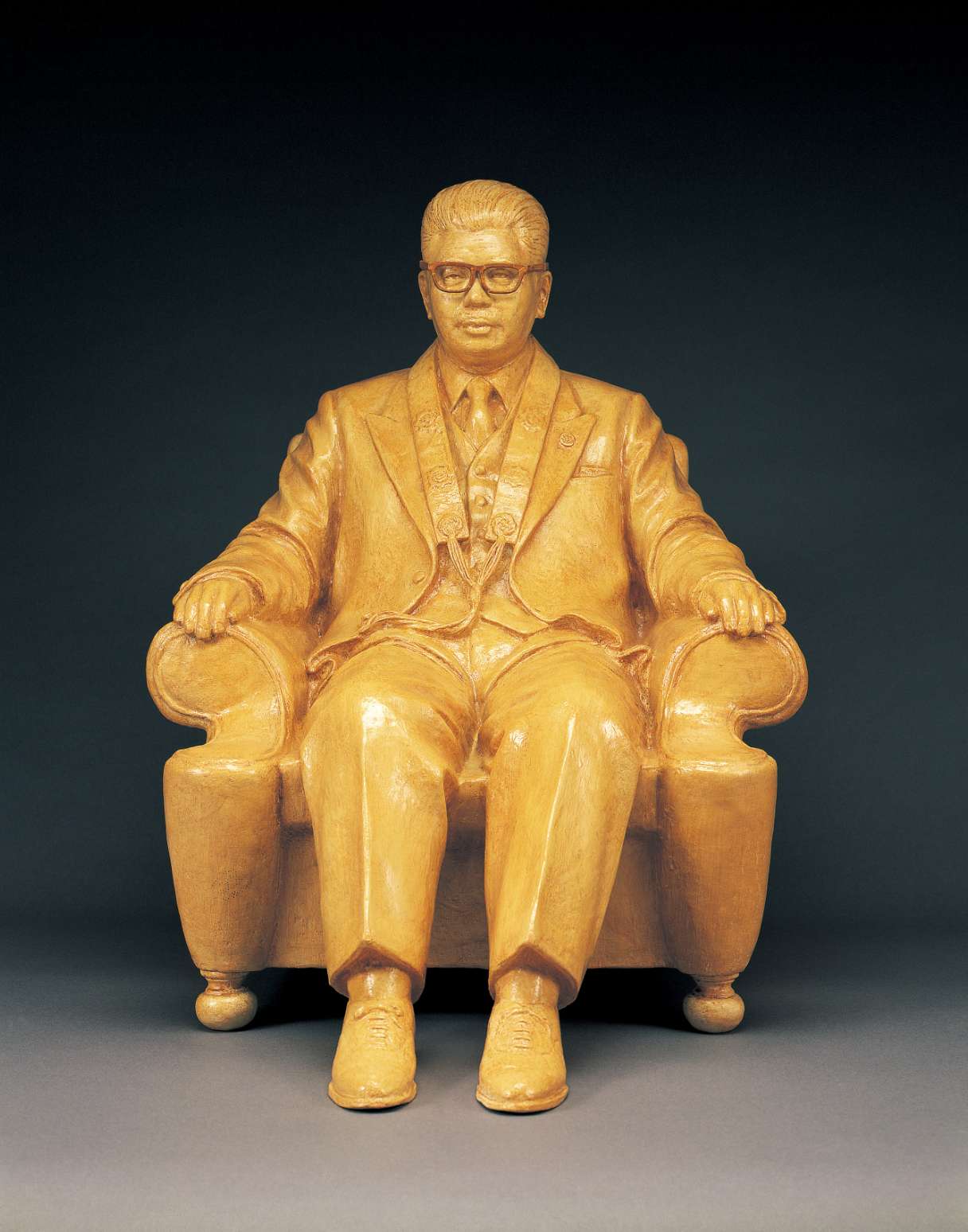 Tomoji Ito, 1912–1967 (Shinjo's Wife)
伊藤友司像
10 of 12
Resin
Height: 55.7 cm
Ca. 1961
In 1960, Shinjo completed his third Great Nirvana image, intended as the primary Buddhist image at Shinnyo‑en's temple in Meguro, Tokyo. The following year, to commemorate the accomplishment, he completed busts of himself and Tomoji, his wife and indispensable spiritual partner. For this piece, Shinjo worked from a wide range of photographs, taken from different angles.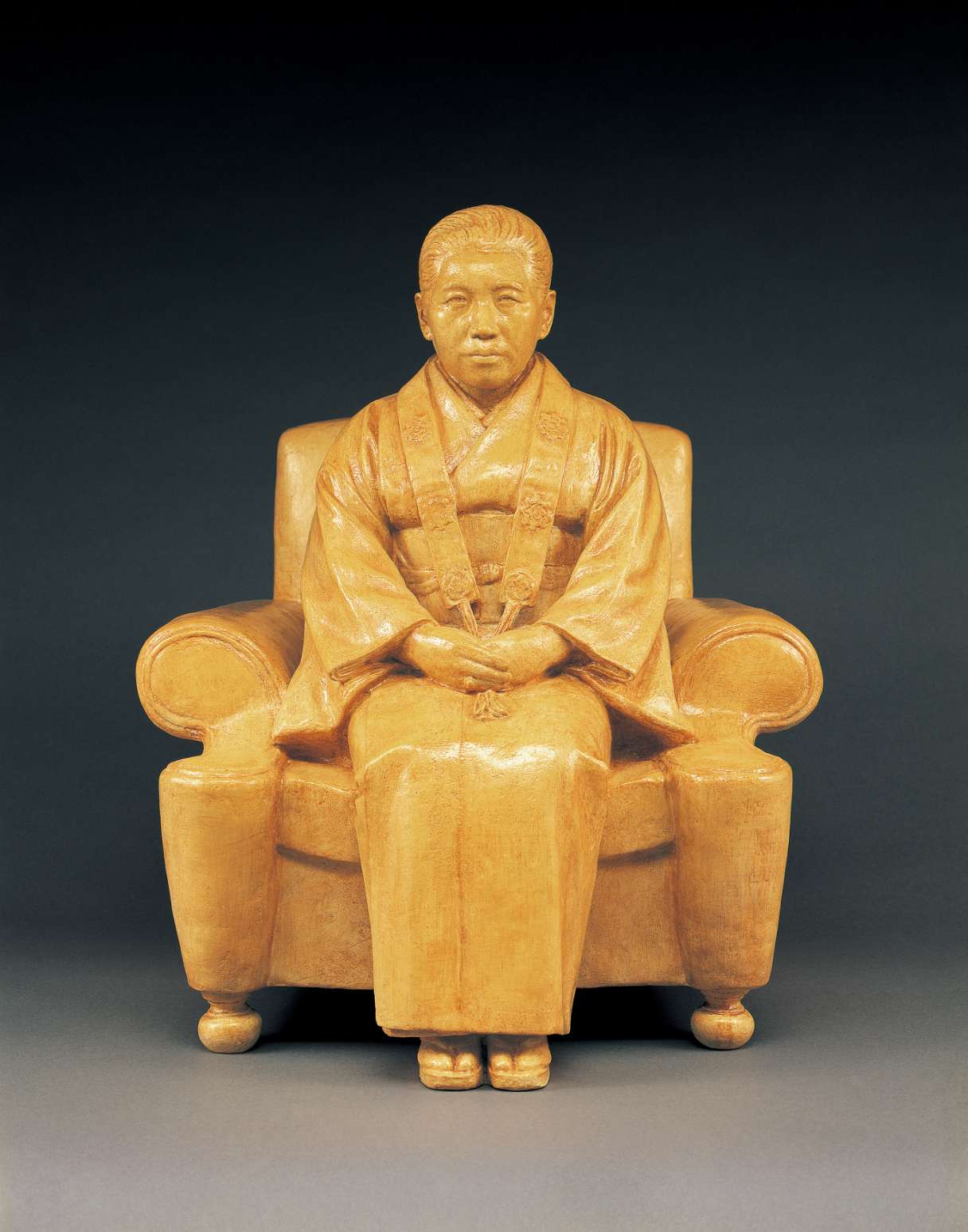 Chibun Ito, 1934–1936 (Shinjo's First Son)
伊藤智文像
11 of 12
Resin
Height: 25.4 cm
Ca. 1953
This bust of Shinjo's first son, who died before his second birthday, is one of the artist's most sensitive works, conveying an ethereal gaze that is at the same time distant and piercing. Originally crafted by a famous sculptor, it was later revised by Shinjo, who gave it a powerful sense of familial intimacy.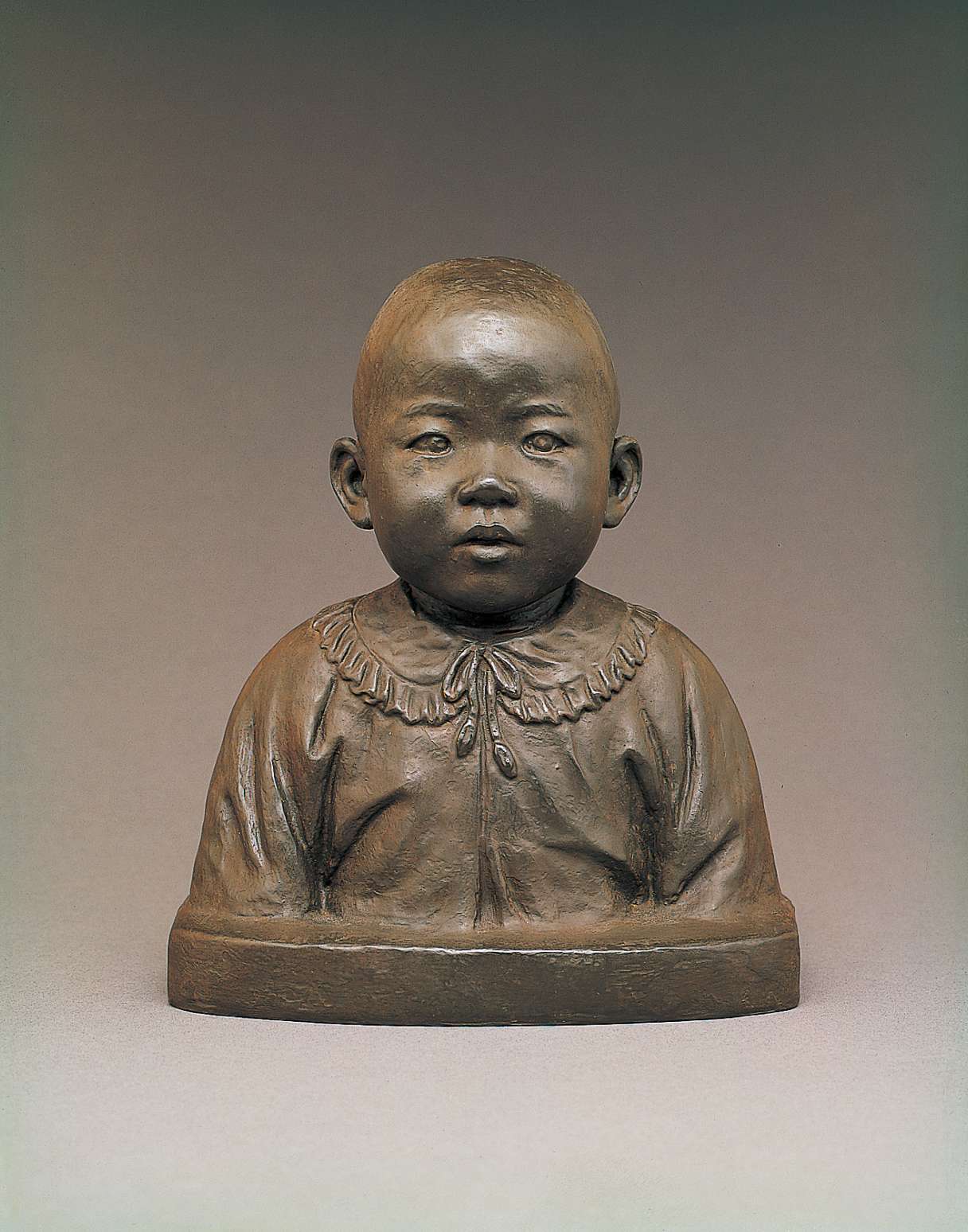 Yuichi Ito, 1937–1952 (Shinjo's Second Son)
伊藤友一像
12 of 12
Resin
Height: 27.1 cm
Ca. 1953
In 1952, after losing his second son to illness at only 15 years of age, Shinjo asked the renowned Japanese sculptor Keiho Kimura (1912-1996) to create busts of both boys. Kimura completed the sculptures the following year, to commemorate the first anniversary of Yuichi's death. The finished pieces, however, were not quite what Shinjo had envisioned, and with Kimura's consent, he made his own adjustments. In addition to satisfying Shinjo's own expectations, this work on Kimura's models taught him valuable lessons in the creation of molds and the use of plaster. He subsequently created a number of busts based on Kimura's work.