Light in the Morning
朝の光 (Asa no Hikari)
1 of 7
Silver gelatin print
Ca. January 1935
It is unclear exactly when Shinjo obtained his first camera, but we know that from 1925, at the age of 19, he apprenticed under renowned portraitist Toragoro Ariga (1890–1993). And when he was conscripted into the Imperial Army Air Force in 1927, he quickly made use of his new skills, shooting aerial photographs and portraits until completion of his service two years later.
Amateur photography blossomed in Japan in the 1930s—the period when Shinjo's work was acclaimed in photographic competitions and published in major periodicals. He favored natural scenery and rural life, turning his lens on everyday backdrops to make evocative and poetic compositions.
Shigeharu Yamamoto (Shinjo's Grandfather)
山本彙治像
2 of 7
Sketch, conte crayon
Dimensions: 31.2 x 24.2 cm
Ca. 1919
Shigeharu Yamamoto, Shinjo's revered maternal grandfather, worked as a local school teacher and devoted his life to education. When he died in 1917 at the age of 69, the 14-year-old Ito decided to draw his portrait and assembled the necessary materials in a typically pragmatic fashion. After diligently saving money, Ito purchased expensive French-made conté crayons. Then, for a basic visual reference, Ito used a magnifying glass to enlarge his grandfather's face pictured amidst the ranks of his students in a standard school class photograph. He then relied on memory for the details. To get the desired three-dimensional feel for the body, Ito hung a suit on a hanger to work as his model.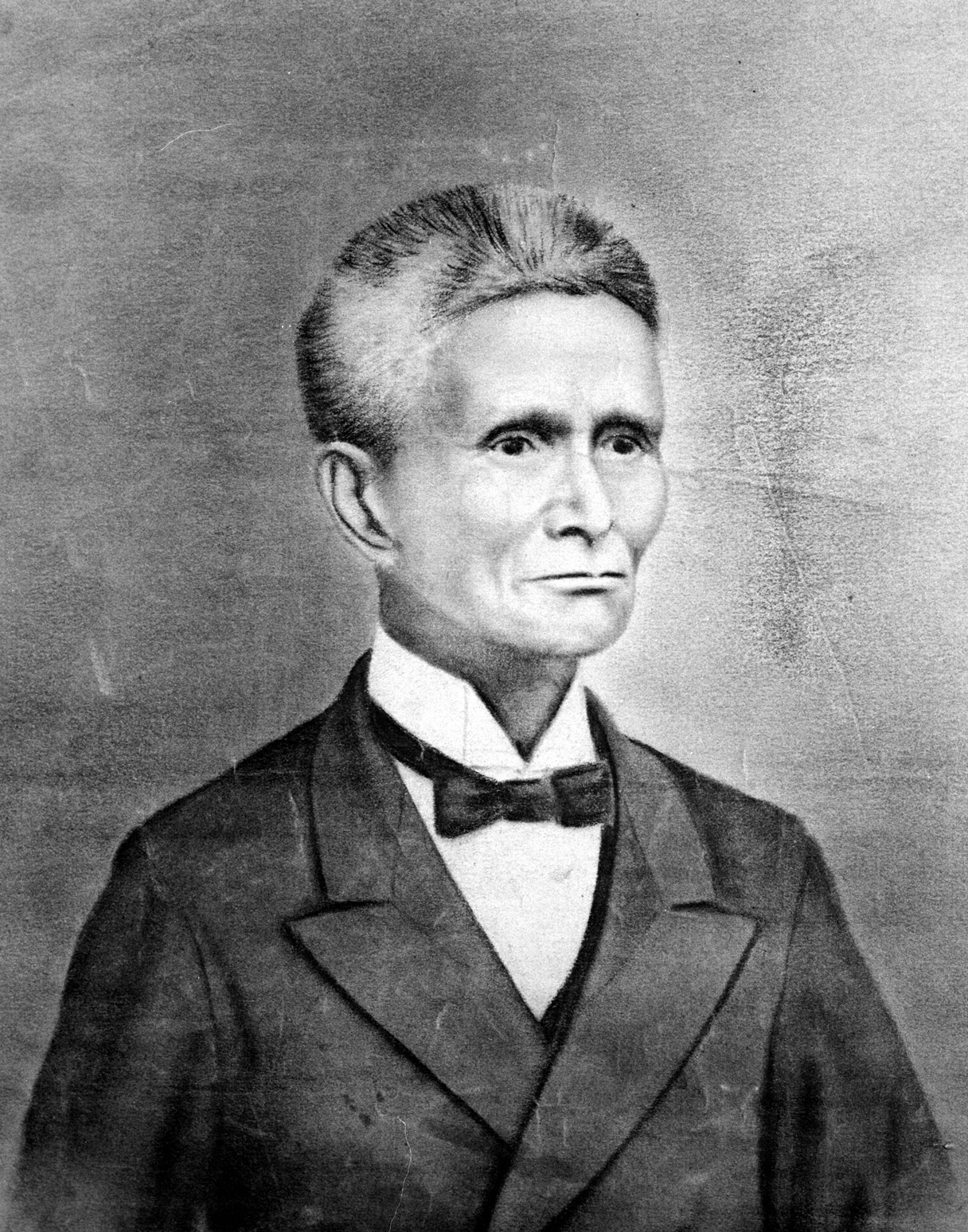 Ucchushma
3 of 7
Etching on copper plate
Dimensions: 27.5 x 22.1 cm
Ca. 1973
This etching of Ucchushma, a deity believed to consume all impurities with fire, includes an inscription of Ucchushma's mantra with instructions to chant this mantra to transform even the most unclean of places.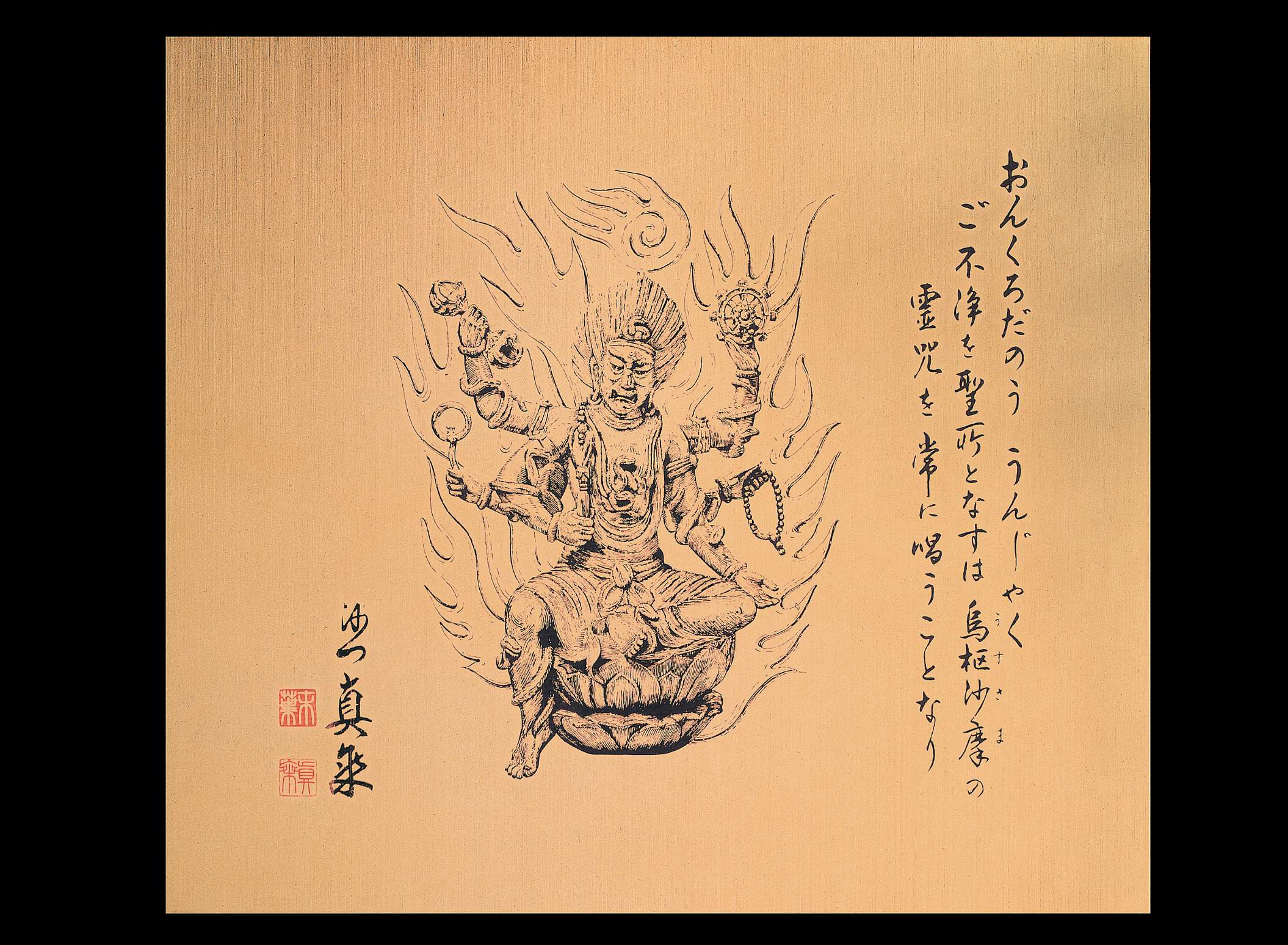 Achalanatha
不動明王像 (Fudo Myo-o)
4 of 7
Painting, hanging scroll
Dimensions: 45.5 x 31.9 cm
Ca. 1947
Creating artwork depicting Achalanatha was a form of spiritual practice for Shinjo Ito and he created numerous images of the figure, many of which he gave to followers and close acquaintances. Each image is unique, reflecting the subtle differences in Ito's thoughts when he created the image.
Achalanatha
不動明王像 (Fudo Myo-o)
5 of 7
Painting, hanging scroll
Dimensions: 48.4 x 33.2 cm
Ca. 1947
An Achalanatha image of the sort Shinjo often gave to followers and friends. Interestingly, later in life he sought the return of some of these early works— which he saw from his mature perspective as unaccomplished—but none of the recipients was willing to relinquish one.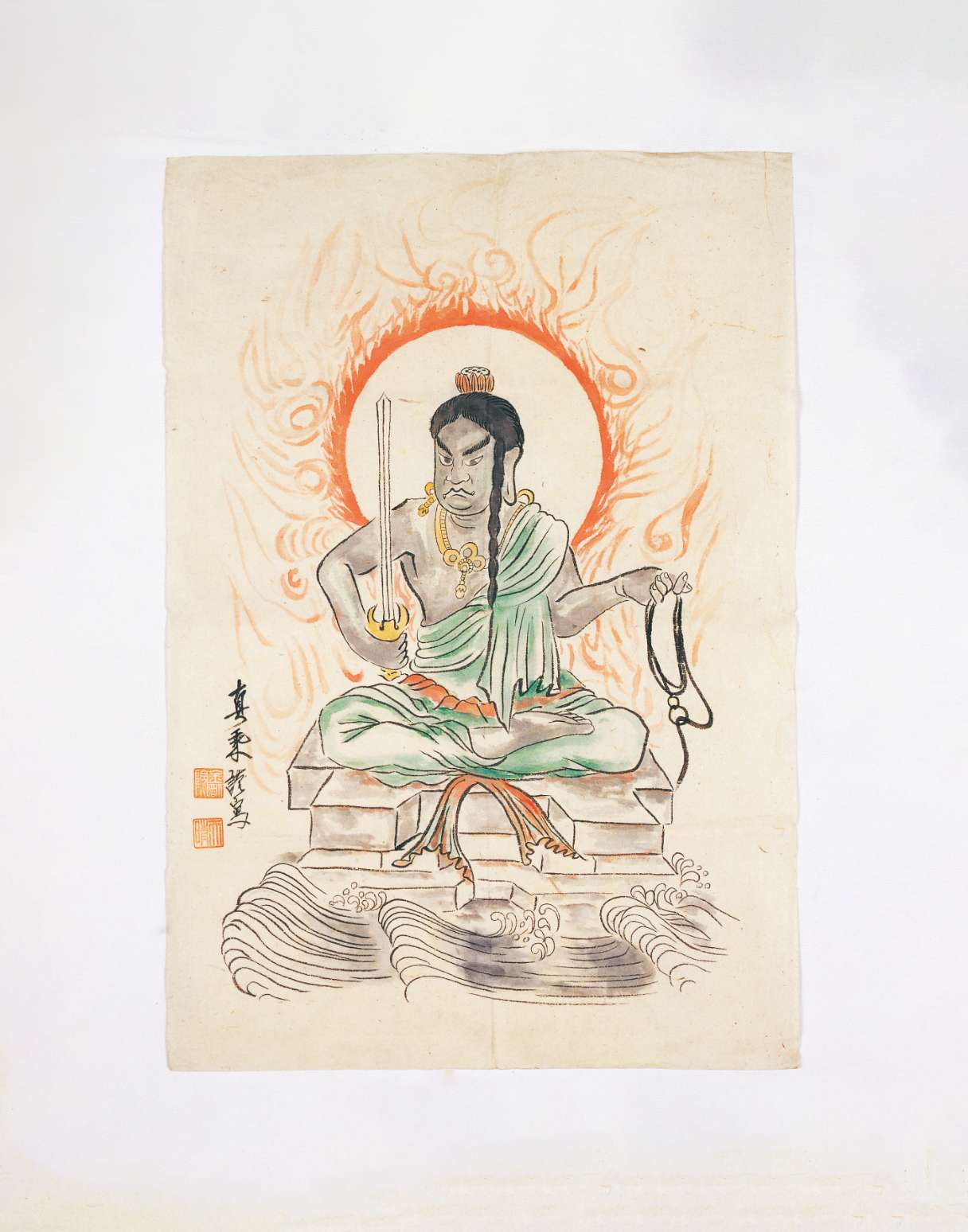 Daily Record
苑記録 (Enkiroku)
6 of 7
Japanese-style book
Dimensions: 5.6 x 17.5 cm
This journal chronicles the happenings around the early Shinnyo‑en congregation. Compiled by Shinjo around 1963, he gave special consideration to the events between 1935 and 1941. Despite having occurred more than two decades prior to their recording, Shinjo's accuracy is attested to by his careful inclusion of photographs, receipts and other documentation from the period.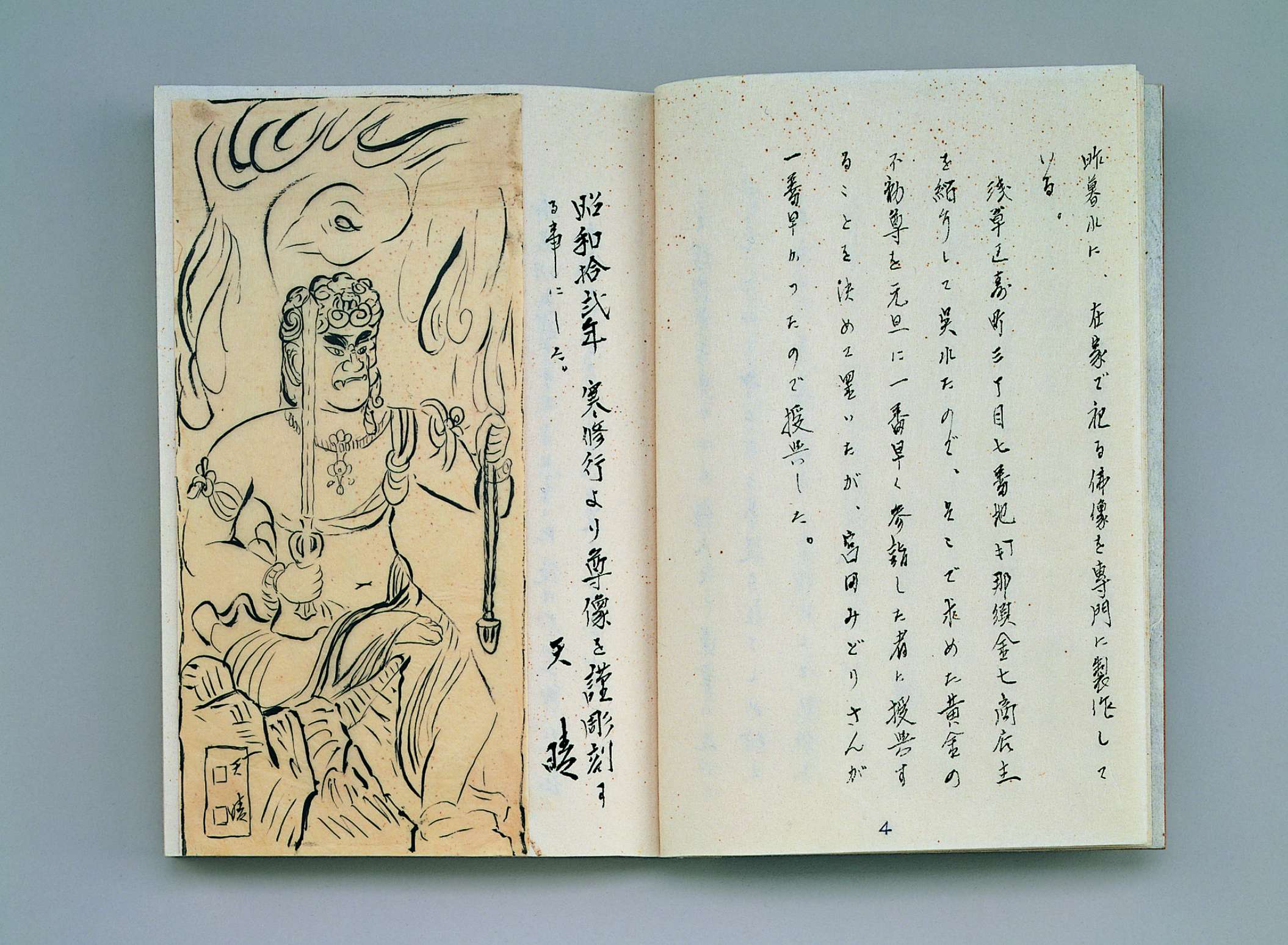 Calligraphy Brushes
筆
7 of 7
Shinjo had a craftsman's attitude to the creation and maintenance of his artistic tools. For example, he designed his own sculpting spatula, switching from bamboo to boxwood on the advice of a professional sculptor, who taught him how boxwood separates more easily from clay. Whenever Shinjo was about to work on an engraving, his first step was always to hone his carving tools on a whetstone. For him, tools and artist were one—any compromise would prevent him from fully honoring what was in his heart. Hence, these tools were an integral part of his creative process.